Cat's Cradle – The Golden Twine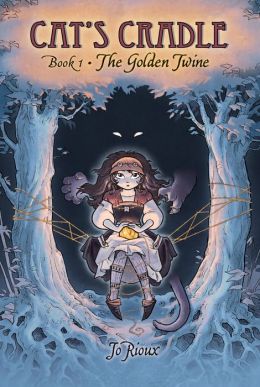 Check this book
by Jo Rioux
This graphic novel takes place in a fantastic world, where monsters cross over into human lands and it is up to the monster tamers to send them back. First in a series by Jo Riuox, the Golden Twine tells the story of Suri, a young girl with big dreams of becoming the best monster tamer in the world – now all she has to do is convince everyone around her that she can!
Suri begins her adventure in a travelling caravan, working in the bakery and as a monster taming storyteller. Suri soon discovers that she is destined for much more than simple storytelling, when she finds a roll of golden twine with magical properties.
This wonderfully illustrated book is a great tale of friendship, adventure, and pursuing one's dreams, no matter the obstacles. A Red Cedar Book Award winner, The Golden Twine is sure to please fans of the Bone and Amulet series.