Our online catalogue is currently experiencing issues with the search function. We are working with the vendor to fix this as soon as possible and thank you for your patience.
Bibliocommons (catalogue, events) will undergo scheduled maintenance on Sunday, May 30th from 3am to 7am and be unavailable during this time frame.

Returning Library Items
External book returns:
All external book returns are open 24/7 daily.
Internal book returns:
The internal book returns are now available at all branches during open hours.
Return to any Richmond branch (locations).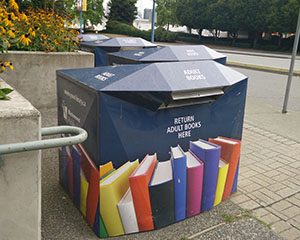 Dispenser DVDs and video games should be returned directly to the dispensers they were taken out from. Effective November 1, 2021, there is a $2.00 charge if returned elsewhere.
Books can also be returned to other lower mainland public libraries. It can take up to four weeks for the return status to update in our online system.
Items borrowed from the Hamilton book dispenser should be returned directly to the dispenser. Customers may temporarily return book dispenser items to any library branch external book return.
The book dispenser at the Seniors Centre at Minoru Centre for Active Living remains temporarily closed.