IMPORTANT ANNOUNCEMENT: The library's Cambie and Ironwood locations will be closed Saturday September 30, Sunday October 1 and Monday October 2. The Steveston location is closed Saturday September 30 and Sunday October 1. Please view our Holiday Hours page for full details about library closures and hours of operation.
Sensory Kits
Richmond Public Library (RPL) is excited to announce the addition of Sensory Kits to the library collection. The kits, created for in-library use and available at all locations, are designed in close consultation with AIDE Canada and Aspire Richmond and are intended to support customers with a variety of sensory needs.
Each kit includes calming items, fidget items and communication tools. A full list of all items included in each kit can be found here. To use a kit, simply ask any library staff member.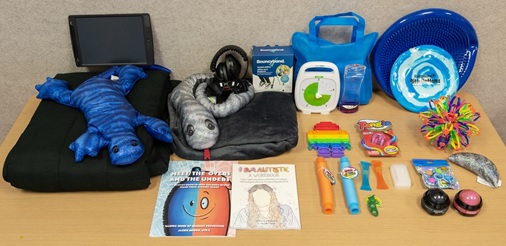 About the Sensory Kits